Promise Neighborhoods In the News: D.C. Promise Neighborhood Initiative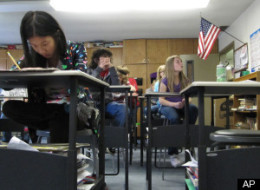 DC Promise Neighborhood Initiative, Photo courtesy of The Huffington Post
The DC Promise Neighborhood Initiative (DCPNI) was highlighted in the Huffington Post this week, including a video on the Initiative's partnership with a mobile health clinic.
"Ms. Salcido used the grant to head up a program to work with other community members to improve students' lives holistically. Part of the D.C. Promise Neighborhood Initiative's vision is to improve the educational and developmental outcomes of children in distressed communities by working to fix other areas that might affect children's learning, such as health or economic factors. While it's too early to tell yet whether the effort has made a measurable difference, the surrounding community is already committed, fundraising double the required $500,000 matching sum the Department of Education required and already vowing to build complementary programs that aid in the full-scope education process."
To read the full article, click here.  To watch video on the mobile health clinic, click here.